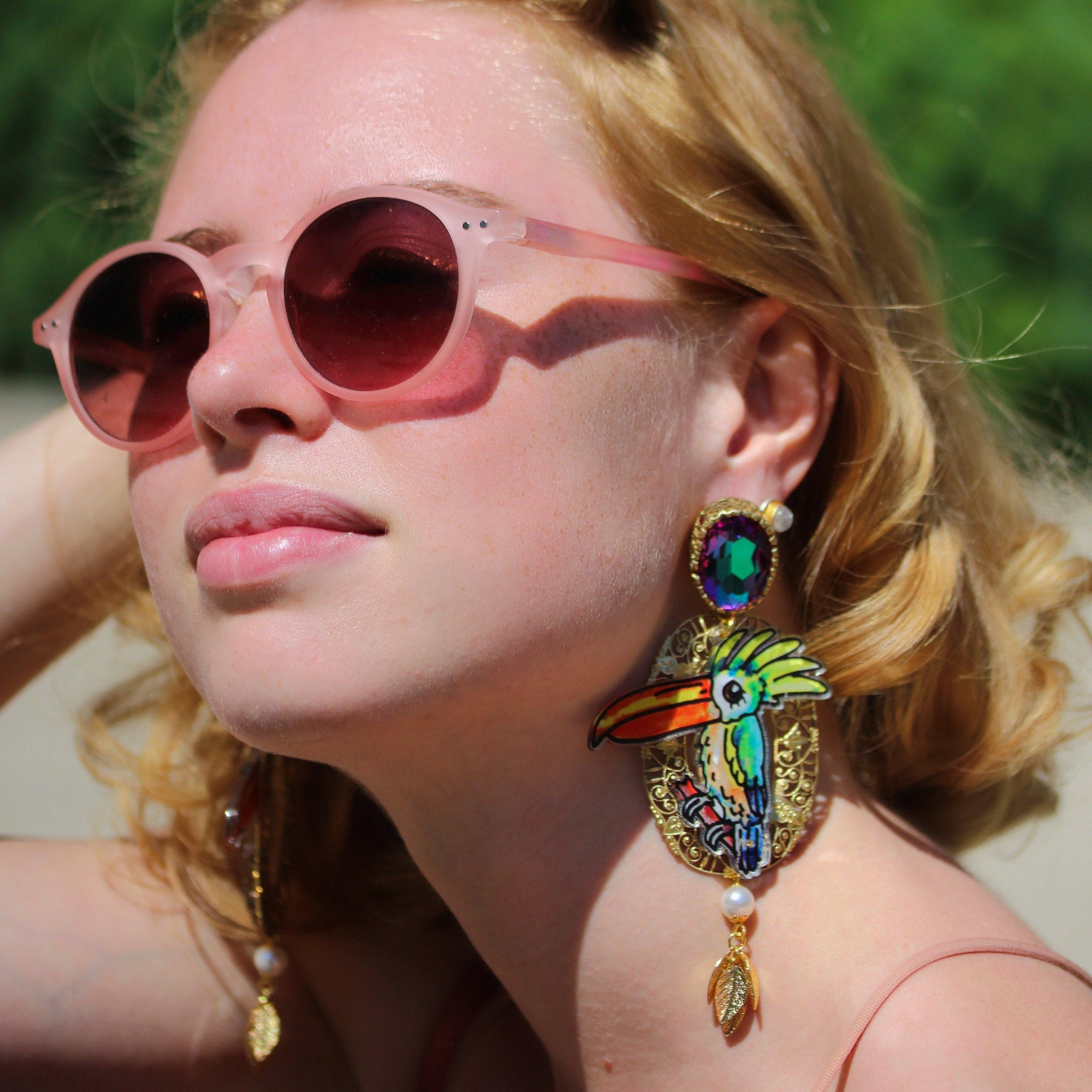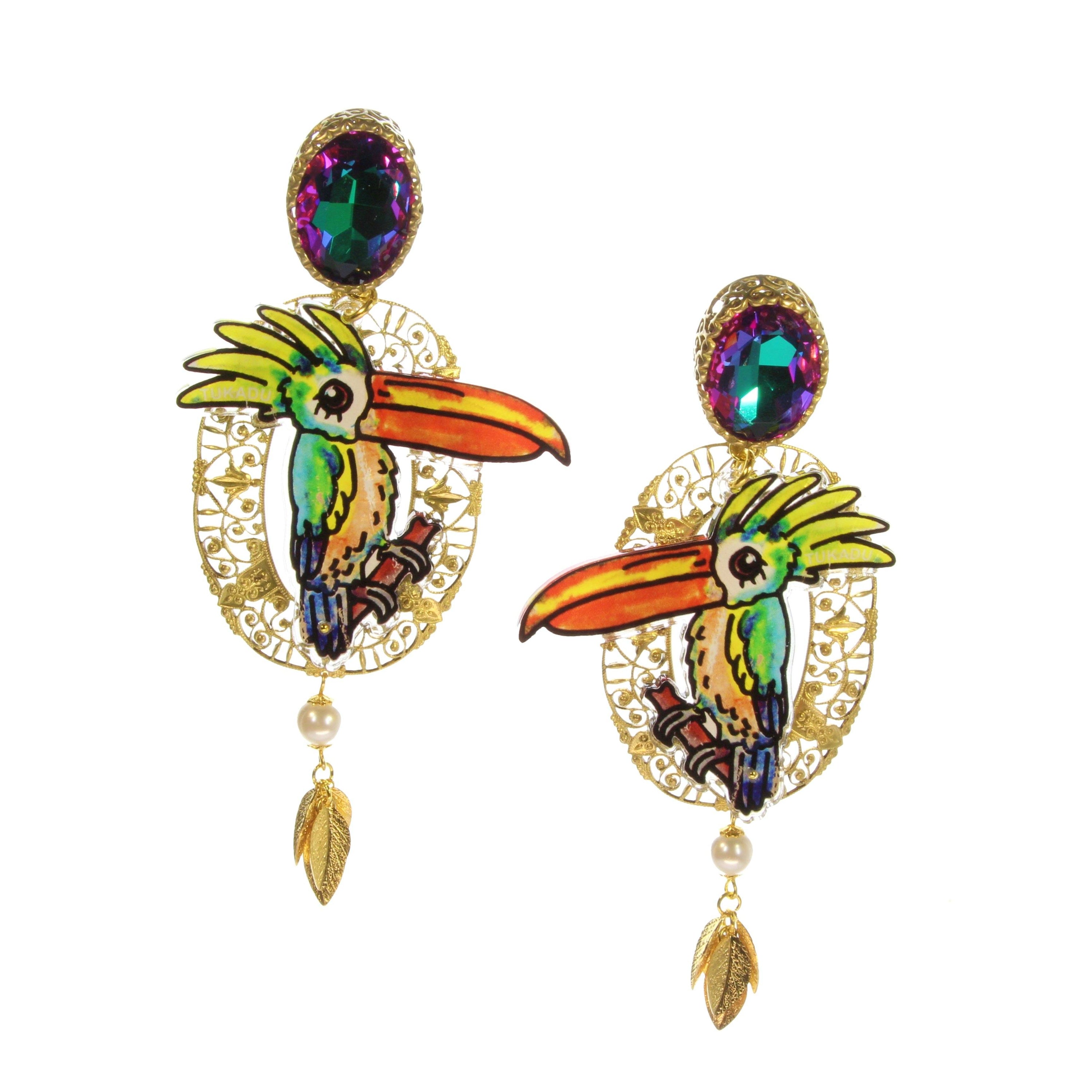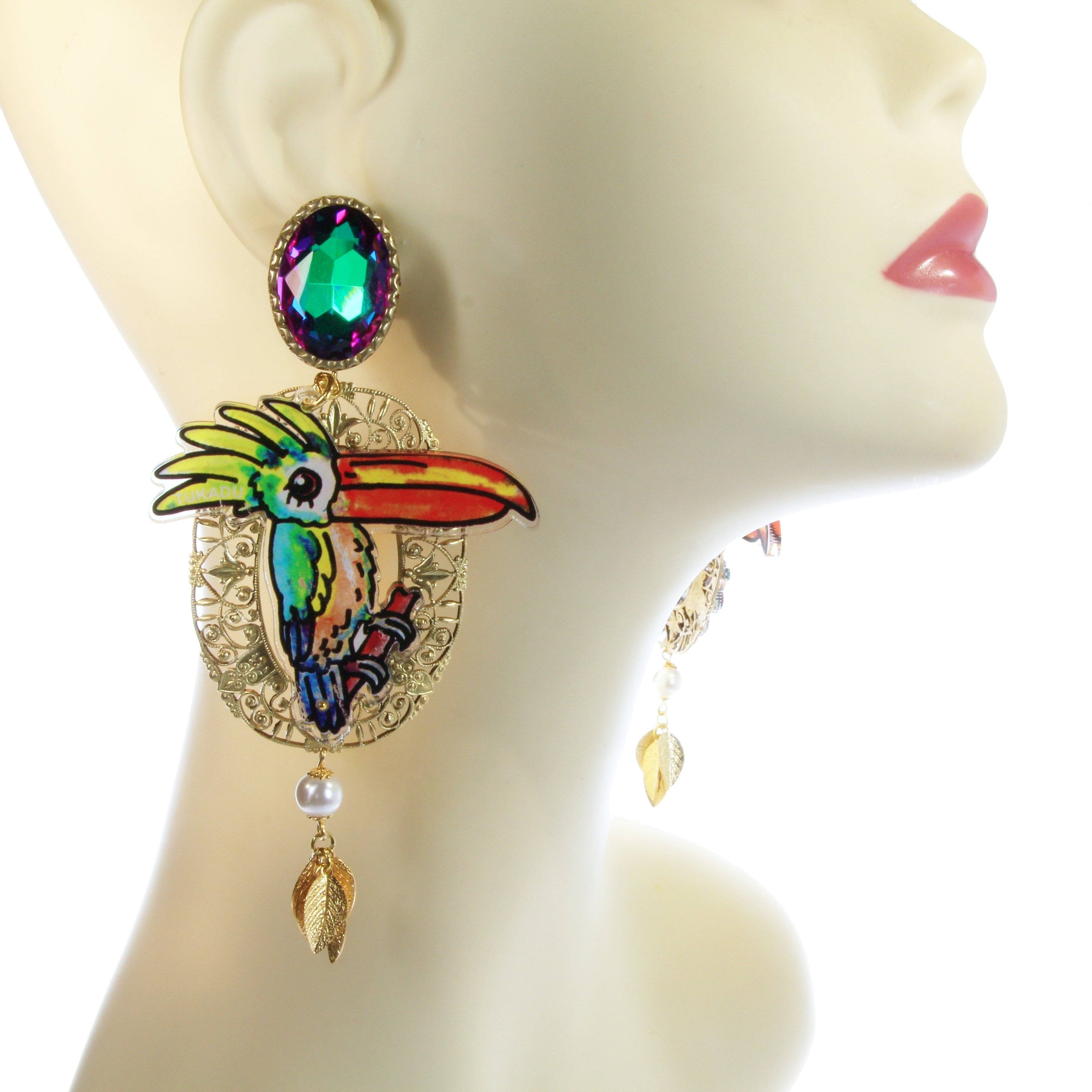 Tukadu Label Statement Earrings
These earrings are a poem by Tukadu!
He is the namesake and mascot of our shop and label - the TUKADU. It combines the most distinctive features of toucan and cockatoo.

Inspired by the self-image of our founder Roberta and her neologism, her grandfather Ludwig G'schrey, a painter and poet of expressive realism, wrote the poem with the illustration of this"colorful bird"in 1993 as a gift for founding the company.

The earrings combine excitingly sparkling rhinestone ear studs, the new tukadu made of Plexiacryl on a romantically playful brass ornament and fine gold-plated leaves.
Each earring measures 11 x 6 cm
Weight of each earring:13 g


We lovingly handcraft your TUKADU piece of jewelery in our studios in Berlin Mitte and Prenzlauer Berg - so you always get your own unique piece.
This may vary slightly in shape and color from the photo. If individual elements are no longer available, we endeavor to maintain the overall character as adequately as possible with other parts.
ANFERTIGUNG
Deine bestellten Schmuckstücke werden im TUKADU-Atelier in Berlin individuell für Dich angefertigt. Sollten einzelne Elemente nicht mehr verfügbar sein, bemühen wir uns den Gesamtcharakter durch ähnliche Teile möglichst adäquat zu erhalten.
Wir arbeiten schnell und können spontan auf deine Wünsche eingehen - zum Beispiel Clips statt Ohrhaken. Die Anfertigung kann 1-3 Tage dauern, bei größeren Bestellungen auch etwas länger.
Bitte schreib uns eine Mail für alle Sonderwünsche oder Änderungen an info@tukadu.com oder über das Kontaktformular weiter unten.
VERSAND
Nach Anfertigung erfolgt die Lieferung zwischen 2-7 Tagen innerhalb Deutschlands.
Genaue Informationen über alle Lieferzeiten findest Du
auf unserer Versandseite oder du fragst uns direkt per Mail, Whatsapp
oder Telefon, wann deine Bestellung fertig ist und voraussichtlich bei dir ankommt.
Tukadu Label Statement Earrings
Keine Ohrlöcher ? Kein Problem !
Wähle einen dieser Ohrclips statt Ohrhaken für deine Ohrringe